Phortune-Tellers
putting the future in future phones

It has been said, "a bowl of noodles is a snapshot of the universe." Use your cameraphone while enjoying your noodles and find your fortune. Three easy steps: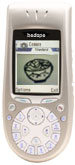 Eat some noodles (yum!)
Take a picture of noodles in your bowl
Email picture of your noodles to noodle@bedope.com
A fortune-teller will study and interpret your noodles image. You will receive a return email with your fortune (in less than a day, maybe within minutes - very fast!).